Sonny, reinstall your sister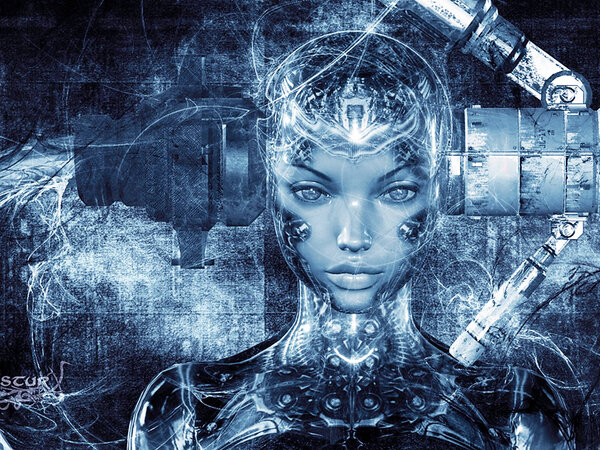 - Sonny, reinstall your sister, she's gone down again.
- Mom, I have no time, I gotta go now! Let dad reinstall her.
- He'll be late tonight, and her homework has not been done yet.
Ludwig groaned and muttered:
- That's the second time this month... Just rebooting her used to be enough.
Mother heard this and struck back.
- There's a virus going round the school. Seven people in her class have already caught the bug.
- I warned that you shouldn't have installed a free antivirus.
But he was already in his sister's room by the time he said this and his mother didn't hear him.
Lucy was sitting on the bed, electronic textbook discs dumped around her. Apparently, she went down just before starting her homework. Perhaps it was because of the homework. Her head was down, her eyes glazed over. The right eyelid was twitching slightly.
Ludwig pulled out a communicator and put it on his sister's forehead. Code lines, graphs and charts appeared on the screen. The connection was established. The lad sat down on the floor and started closing processes locked up in her brain implants. Lucy yanked her hand, smiled, then went down again.
- Hmm. Looks like reinstallation really is the only way here.
He really did not want to do this, and not just because it would take about forty minutes to reinstall. At the end of the procedure, a direct contact with another augmented consciousness is required. And that means ... Oh, he'd rather not even think about that!
Lucy went into safe mode, having lost contact with all her implants for a few seconds. She had just enough time to lay down on the bed and wince "Come on faster, my back is getting numb" and then fell back into her stupor. The system backed up the data and formatted the clusters suspected of being infected. Then the reinstallation started.
Half an hour later, Ludwig went into the kitchen and looked at his mother, who was keeping an eye on the house robot. For a few moments the lad shifted from one foot to the other.
- Mom, go up to her. You need to connect with Lucy directly and tell the system Ok a couple of times, so it all works.
She looked around and swept her eyes over him.
- Finish it yourself! All you can think about is getting outside, can't even confirm the final Ok. Look at all the other children, sitting at home as they should, and you...- she suddenly snatched a potato from the robot's hands, - And where are you taking that, dummy?! This is a soup, you have to chop the potatoes first!
- Mom, I can't do this myself. Directly.
She finished with the robot and looked at her son again.
- Why is that? Have you also got problems too?
She gave her son a probing look, but still went to the Lucy's room and put her hand to the girl's head. After a minute, the girl picked herself up, yawning. Walking back to the kitchen, mother stopped in the corridor.
- You still didn't answer me - she asked in a hushed voice, - Have you got problems? Ludwig!
He bit his lip and turned away.
- Just don't be mad, mom. I've been wanting to tell you this for a long time but… just couldn't.
Bracing herself, she sat down.
- Ok, tell me.
- So basically, I… uh… - he sighed deeply, closed his eyes, and spat it out, - I did not get brain implants!
Mother shrank with dismay and put her hand on her chest.
- So this is what we've come to! Well, I knew it, I knew it! I told your father that you'd get out of hand! It's all the streets and your strange buddies!
- Stop it, what's that got to do with it...
- Everything! - she shook her fist at him, - If you had done your daily RPG-stimulation, you wouldn't have become an organic!
She took a handkerchief out of her apron.
- Shame on me, - she covered her face and continued mumbling.
Ludwig went out. Looks like he'll be back home late, when everyone has gone to bed. Still, the talk with his father is inevitable. Whoever heard of such a thing - a son growing up without an augmented consciousness! An organic, to put it bluntly...
Translated into english by Alexander Kolemesin